HowTo: Create missing Genesis 8.1 Head skin maps from Genesis 8/3 skin maps
markusmatern
Posts: 383
HowTo: Create missing Genesis 8.1 Head skin maps from Genesis 8/3 skin maps
The new Genesis 8.1 base figure has an additional material zone called Head that also is a separate UV layout compared to Genesis8/Genesis3 skin materials. This is problematic when trying to mix these skins with new skin assets designed only for Genesis 8.1. I am experimenting with converting existing skin maps with a tool included in DAZ Studio that is called Map Transfer. For a basic introduction to Map Transfer see an amazing tutorial of L'Adair here: https://www.daz3d.com/forums/discussion/184696/tutorial-from-map-transfer-to-material-presets
Here is my working process so far tested with Millawa 8. Base Mixing settings for all surfaces from Millawa 8 are PBR Metallicity/Roughness. The process seems to fail for some maps, when it is PBR Specular/Glossiness instead! However you can manually plug the required maps into the Diffuse image slot one at a time and repeat the process multiple times as a workaround.
1) Load Genesis 8.1 Female Base Character
2) Select it in your Scene tab
3) Apply any Genesis 8 (or even Genesis 3) material settings
4) Open the Surfaces pane and start the Map Transfer tool (you do this by right clicking on the Surfaces pane and selecting it)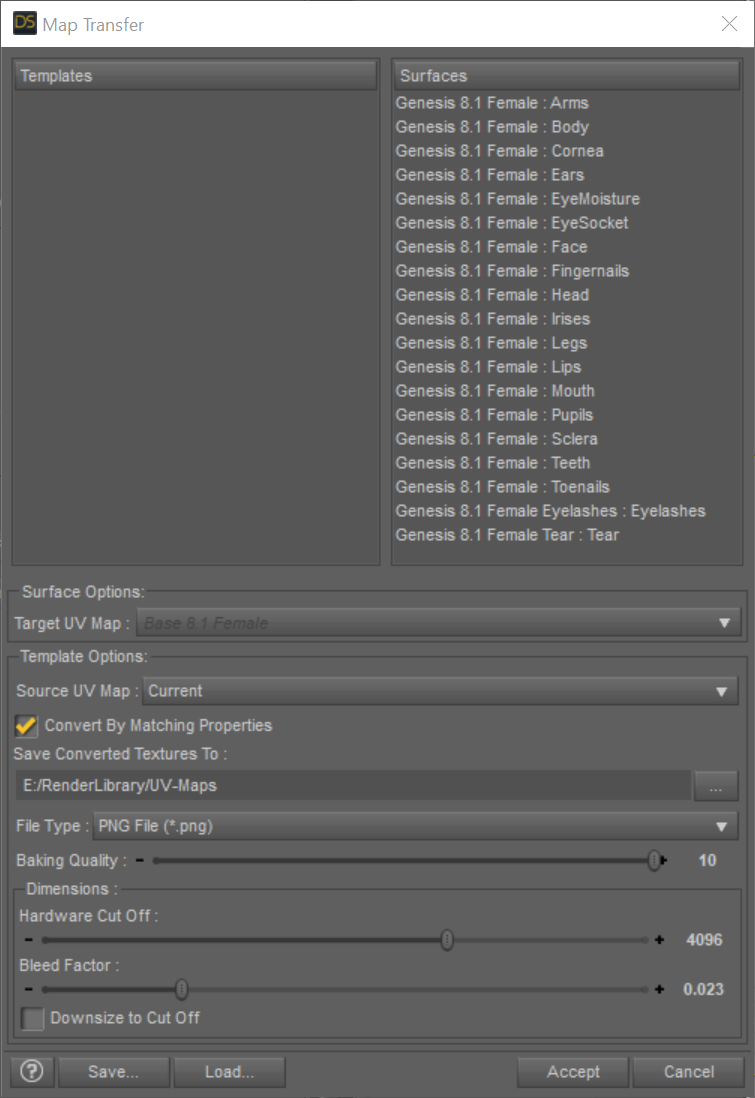 4a) Right click in the Templates area and select New Template
4b) Drag and Drop the Genesis 8.1 Female : Head from the Surfaces area on the right to the left Template1 you just created
4c) On the left select the new surface under Template1 and make sure the Surface Options: Target UV Map: say Base 8.1 Female

4d) On the left select Template1 and check the settings in the lower part of the dialog where it says Template Options. I used these:
Source UV Map: Current
Convert by Matching Properties: Selected
Choose a path where you find the generated textures later on
File Type: PNG
Baking Quality: 10
Dimensions: Harware Cut Off: 4096 and Bleed Factor: 0.01
Downsize to Cut Off: Not selected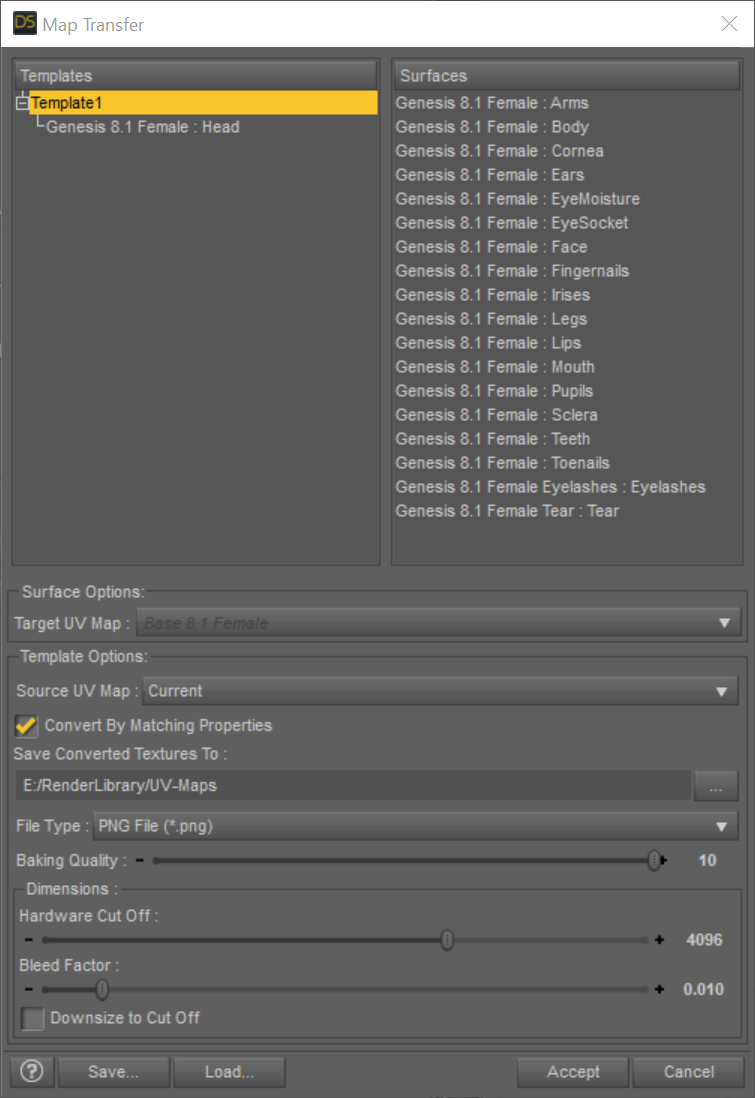 5) Optional: I saved the settings for later reuse using the Save... button
6) Hit Accept and the conversion process should start.
7) Open the Surfaces tab and open Head→Geometry. Change the UV Maps→UV Set from Base Female to Base 8.1 Female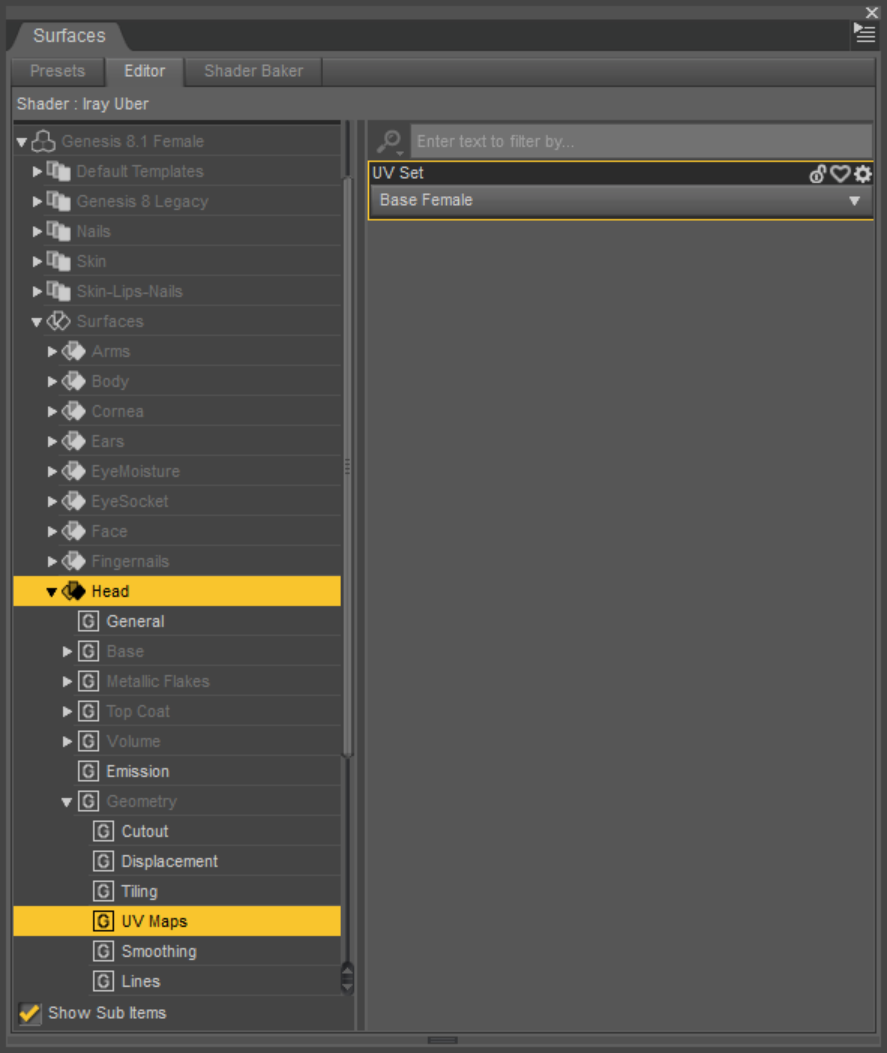 8) Apply the newly created maps to their appropriate slots
NOTE: This still uses the original shader!!!
But you are using the new UV layout and can apply LIE settings designed for the new 8.1 UV layout like the tattoos from Victoria 8.1
The following post shows the opposite process:
https://www.daz3d.com/forums/discussion/502871/howto-create-missing-genesis-8-skin-parts-on-torso-surface-from-genesis-8-1-body-and-head-surfaces
Map-Transfer_Surfaces.png
Post edited by markusmatern on