Take the most versatile
3D Library with you
Daz Bridges allow you to easily transfer your Daz content directly to other popular 3D software. These handy plug-ins neatly convert functional rigging, polygons, textures, and materials, so you can create with Daz assets,
no matter which software you prefer.

Begin your cross-platform creative journey today!
Shop & Transfer

Quick & Easy Transfer
Seamlessly Transfer thousands of Daz 3D assets to your 3D software with ease and speed.

shop & transfer
Shop thousands of 3D assets to convert or download files directly for your 3D software.

Drag & Drop Simplicity
Daz Studio is ready to mix, match, blend, and pose. Render in Studio or transfer to your preferred 3D software to make final touches.

Hassle Free
No need to worry about rigging, polygons, or material conversions - Daz takes care of it all!

Diverse Library
With an extensive collection of characters, hair, props, poses, and environments, Daz has everything you need for your next project.

Studio Quality
Daz content is renowned for its high-quality and high-resolution, perfect for cinema-quality renders, professional videos, and game development.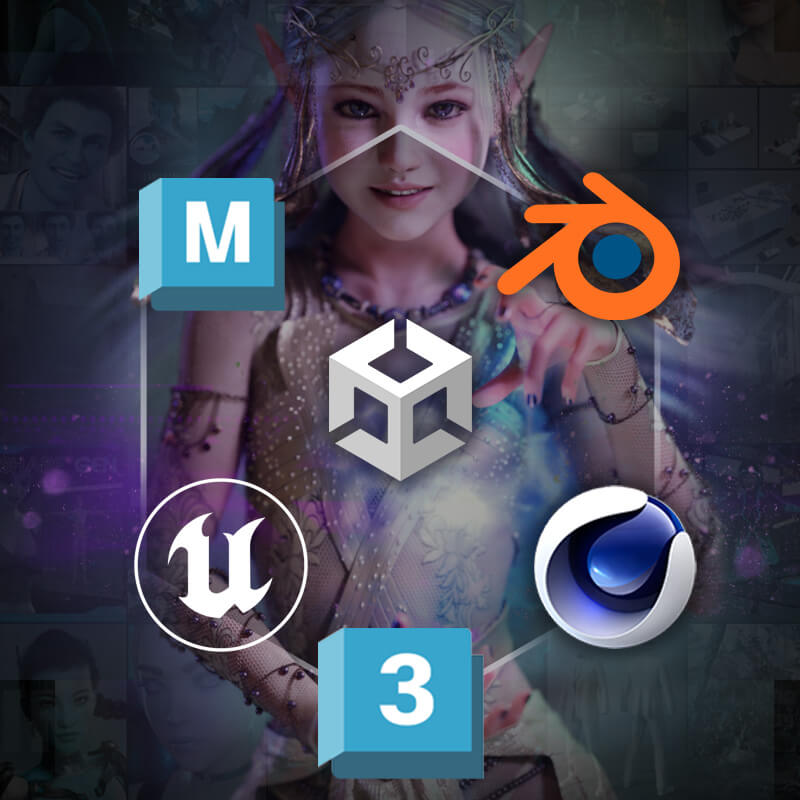 Cross-Platform Items
Maya, Blender, Cinema 4D, 3ds Max, Unreal, and Unity File Formats are now available for purchase and download so you can keep creating seamlessly in your preferred 3D software.
Shop File Formats
Unleash the Potential of Your 3D Library with Daz Bridges
Whether you're an avid Daz user or seeking an extensive library
of customizable and versatile content to elevate your cross-platform work,
Daz Bridges are here to help.
View over 40,000 Items
Download Daz Studio for free, and get automatic access to Daz Bridges for Maya, Blender, 3ds Max, Cinema 4D, Unreal, and Unity - at no extra cost.
Explore a vast selection of over 40,000 items to find your perfect product. Use Daz Studio's built-in sliders, morphs, smart content, and auto-fit to create your ideal characters and scenes.
Once your character or scene is ready, simply open your Daz Bridge and effortlessly import your project into your 3D software.
Then put in the final touches - pose, animate, and render!