Make your content work for you with the Daz to Maya Bridge. This easy-to-use Bridge transfers your Genesis 8 and 3 content from Daz directly to Maya, and also allows you to rig and animate in Maya and bring your creation back to Studio to keep working.
Daz to Maya Updates
Used module setup for the plugin
Updated Daz to Maya UI
Daz script update
Read FAQ's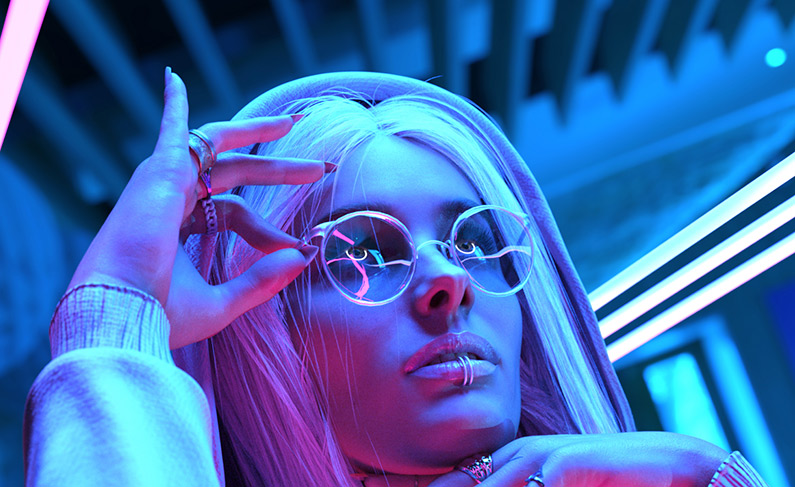 Daz to Maya products
Get the MetaMixer Toolkit for just Maya File Formats are available for purchase and automatic download.
Use amazing 3D content and create where you're comfortable.
explore daz shop
Shop & Transfer

Quick & Easy Transfer
Transfer thousands of Daz 3D assets to your 3D software simply, quickly, and easily.

shop & transfer
Shop thousands of 3D Assets to convert or download files directly for your 3D software.

Drag & Drop Simplicity
Daz Studio is ready to mix, match, blend, and pose. Render in Studio or transfer to your 3D software for the final touch.

Hassle Free
There's no fuss, rigging, polygons or converting materials - Daz takes care of all of that!

Diverse Library
With characters, hair, props, poses, and environments, Daz has everything you need for your next project.

Studio Quality
Daz content is high quality and high resolution, ready for cinema-quality renders, professional videos & game development.
Download Studio for free, and get automatic access to Daz Bridges for Maya, Blender, 3ds Max, Cinema 4D,Unreal & Unity (also free!)
Explore over 30,000 items to find your perfect product. Then use Studio's built-in sliders, morphs, smart content and auto-fit to make your perfect character & scene.
Once your character or scene is ready to go, open your Daz Bridge and import your project to your 3D software simply, quickly and easily.
Then put in the finishing touches - pose, animate, render!
FAQ's
Used module setup for the plugin:

Placed Daz to Maya launcher under shelf "DazToMaya"
Added DAZTools launched under shelf "DazToMaya"

Updated Daz to Maya UI:

Cleaned UI and fixed broken references
Added option "merge to scene"
Updated logo icons and banner in the UI

Daz script update

Updated intermediate export location to follow the new Daz bridges setup

Morph support:

Added option to export morphs on the Daz side
Created a Morphs object to with custom attributes for each exported morph which controls the corresponding blendshapes

Moved to Python3

Cleaned script to use the python 3 commands

Moved to Python3
Genesis 8.1 support for DAZTools
Open your character in Daz Studio.
Locate and open the Daz to Maya Bridge, which can be found at the top of Studio under Scripts > Bridges > Daz to Maya.
Click on 'Daz to Maya' in the above path to run the script.
In Maya, go to 'Daz 3D' at the top of Maya; run the script, and choose 'Auto-Import.'
That's it!
In Daz Studio:

1. Export the character as an FBX

Accept the settings from the pop-up window

2. Navigate to Scripts → Bridges → Daz to Maya:

The files will automatically be converted and are ready to be bridged over to Maya

In Maya:

1. Save your scene

2. Bridge your Daz character by navigating to -Daz 3D- at the top of your screen → Daz to Maya and and select "Auto Import"

If you do not see -Daz 3D-, navigate to Windows → Settings/Preferences → Plugin Manager → then, check the "Loaded" and "Auto Load" boxes under the Daz to Maya Plugin section

3. Locate the Script Editor in the lower right-hand corner and open the script window

Or navigate to Windows → General Editors → Script Editor

4. Under the MEL tab, type DAZTools (case sensitive), highlight the text, navigate to Commands and select Execute; OR, highlight the text, middle mouse click/drag to the desired shelf, and select the shortcut

5. Under the Daz Studio Tools script window, select Rig or Re-target Skeleton, select Run on open file; OR, Chose file (and select the FBX that you exported earlier from Daz)

6. The plugin will now create a new rig for the selected character

7. Animate the character

8. Locate or re-open the DAZTools plugin and select Export Animations to DAZ

9. Name the animation file, choose the directory for where you would like to save this file, and click Export DUF

10. Open Daz Studio, navigate to your Content Browser, right-click "DAZ Studio Formats" and select "Add a Base Directory" to add your animation's save location.

11. Select the root of your character, and double click your animation.

12. Your animation is now in Daz Studio!
A Bridge is a cross-platform port that converts 3D Assets — in this case, amazing Daz content — and brings it to another software, complete with rigging, textures, and other Studio modifications.
The Maya Bridge is a two way connection that allows you to rig and animate in Maya and import to Studio, or build in Studio and import to Maya.