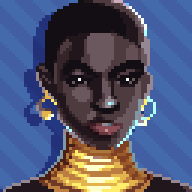 Introducing the First
Shudu NFT Collection
Brought to you exclusively by The Diigitals and Daz 3D
Shop Now
Learn about NFTs
Balmain - "Shudu, Zhi, and Margot - the Virtual Army, Balmain Pre-Fall 2018"

Vogue Australia Sept 2018

Lexus - Freedom to Move by Tosin Oshinowo and Chrissa Amuah, inspired by Lexus (2020)

Who Is Shudu

Shudu is a world famous digital fashion supermodel, social media influencer, and diversity advocate.

Shudu has graced the covers of iconic magazines and been the face of many high-fashion, global brand campaigns.

Shop Now
Shudu's Story

Striking and instantly captivating, a mysterious model named Shudu appeared on Instagram in 2017 and quickly attracted thousands of followers wanting to know more about her identity. She was revealed to be a virtual model created by fashion photographer and visual artist Cameron-James Wilson (using Daz Studio software). Shudu was influenced by a number of inspirational and beautiful women who Cameron admires - and she continues to be shaped by real life muses across the globe. With Shudu's sizable platform, she hopes to champion diversity in fashion, collaborate with creators from under-represented communities, and partner with up-and-coming designers and brands.

"With unprecedented access to my archives, Daz has reworked some of Shudu's most iconic imagery as NFTs."

- Cameron-James, Founder & CEO The Diigitals, Creator of Shudu

Shop Now
Cameron-James, Creator of Shudu

Ama Badu, Shudu's Muse and Voice

Cameron-James Wilson

Creator

Cameron-James Wilson is a British fashion photographer and visual artist with over a decade of experience in the industry. Seeking inspiration in a new medium, Cameron began experimenting in 3D modeling and CGI and created Shudu – the World's First Digital Supermodel. He has since founded The Diigitals, an all-digital modeling agency created to demonstrate the potential of 3D fashion modeling and showcase its application for innovative brands.

Ama Badu

Shudu's muse & voice

A long-time fan of Shudu and Cameron's work, Ama, a beauty, fashion, art and culture journalist, was compelled to take on the voice and craft Shudu's soul. To Ama, Shudu is real, and she wants her to be as real to everyone else too.
Supporting Black Girls CODE

Black Girls CODE is an organization working to increase the number of women of color in the digital space by empowering girls of color ages 7 to 17 to become innovators in STEM fields. Proceeds from the sales of Shudu NFTs will go to this powerful organization to help further their mission to introduce programming and technology to a new generation of coders.
Daz 3D and The Diigitals Launch
Exclusive NFT in Support of AAPI Month
100% of the proceeds from NFT sales will go to the charity, Stop AAPI Hate
"For support or to get information about your unlockables, please contact [email protected]
{{openseajs}}