Dex (DSON Exchange) plugin for Maya
dexplugin
Posts: 8
Hi Everyone,
I'm a long-time DAZ 3D user and also an avid 3D generalist. My most used tool is Maya, and for some time now I've been working on a plugin for Maya to help facilitate the pipeline between it and DAZ Studio. I wanted to share what I've done here and solicit feedback from the community. I'd love to know what people think and if it would be useful in some people's workflows.
I'm aware that there are already a few products available in the DAZ marketplace that bridge the gap between Maya and Daz Studio. I think it's fantastic that users are being provided with the kind of automation that these products provide. I believe the software I've written tackles this issue in a different way and so I hope it can be a useful addition to the community.
I call it Dex, which is short for DSON Exchange. The plugin is designed to import .duf files from a users DAZ 3D Library directly in to Maya, without the need for having to export from DAZ studio first. In case the reader is not aware, the term DSON is short for Daz Scene Object Notation and refers to the format used to specify DAZ assets and files, hence the name "DSON Exchange".
The plugin itself is not 100% complete yet. I need to do a lot of testing to ensure it can properly import as many assets as possible.
I've prepared a screencast of the main features of the plugin and published it here: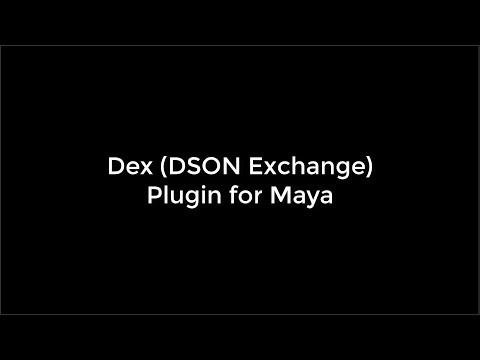 Please take a look; I would love to hear your comments. Also, it's my first screencast, so please be patient
These are the main features of Dex:
- Browser:
Dex provides a browser for browsing your DAZ 3D Library and selecting files for import. Any .duf file in your library will show up in the browser. It provides the same thumbnail icons as are displayed in DAZ Studio. The user double-clicks a file to begin the import. Here's what it looks like in Maya (browsing the "Characters" folder of the Genesis 8 Female product):
Here's the link to the full size version: https://drive.google.com/open?id=1Daq4jaIO6SpgD70-yBYEtmdeaTsP0TiR
- DAZ Asset Types:
Dex will import Characters, Clothing (which will conform as expected), Pose files, and Material files. In the case of clothing, poses, and materials, these will be added to the currently selected figure (already imported).
- Renderers:
Dex will automatically generate materials for either Arnold 5.0 and up, or Redshift 2.0 and up. I plan to include support for more rendering packages in the future, particularly Octane and VRay.
- JCM's:
DAZ 3D models are all expertly rigged for use in animation. One of the most useful features of their models are the Joint Controlled Modifiers (Morphs?), or JCM's. As you may know, the JCM's provide life-like morphs to be applied to a model when certain joints are in certain positions, greatly enhancing the realism. Dex automatically reads the JCM's for any character or wearable that it imports.
- Joint Connections:
I don't know what the official name for this is. In some files (Genesis 8 characters, for example), there are specifications for linking the movement of one joint with others. When the first joint, moves, the others are affected proportionally. A good example of this is with the eyes of the Genesis 8 characters. When the eyes are rotated up-down or side-side, the joints controlling the eyelids are also affected in a subtle but realistic way. They're not JCM's, exactly, but essential to retain all the realism found in DAZ Studio. Dex imports these as well.
- Pose and Shape Modifiers
In Daz Studio, there is an area of the interface that allows the user to dial-in Pose and Shape modifiers. Examples of Pose modifiers include "Arms Up-Down", "Arms Front-Back", and the various expression and viseme dials. Examples of Shape modifiers include "Height", "Body Size", and Character modifiers like "Victoria 8". Dex provides a UI that replicates this behavior. The user can dial in these modifiers using the appropriate slider, and the effect will be applied to the character. It's important to note that Pose and Shape modifiers do not simply affect the mesh of the figure in question. In cases like the "Victoria 8" modifier, joints within the underlying skeleton itself are repositioned within the model in order to keep them in the right place. Similarily, Pose modifications are applied to the joints themselves, and not the mesh.
When Pose and Shape modifiers are first used, an attribute is generated in the Maya scene that can be used for animation keying.
Here's an image of the Pose Modifiers browser:
Full size: https://drive.google.com/open?id=1DlhnTKmGXicL79zKZKt_JoSWpHzED-F_
- Human-IK
The Human-IK rig can be applied to Genesis 3 and 8 characters as long as the character is in the default pose and position. Once added, Pose Modifiers and imported Pose files that affect the body of the character will no longer work as expected. However, facial expression modifiers and assets will continue to work normally, as they are not affected by the Human-IK rig. Shape modifiers that do not affect the skeleton will work properly. Any shape modifiers that do affect the skeleton (eg: Height, Victoria 8) should be applied before applying the Human-IK rig.
A few things that are NOT in place yet:
IK Rig:
The Human-IK rig is useful for most workflows, but characters with HIK applied lose the ability to be affected by Pose Modifiers and Pose .duf files. Eventually, Dex will provide a custom IK rig to supplement the existing FK system that will allow Pose modifiers and assets to be used.
Genesis 1 and 2 Skin Binding:
Genesis and Genesis 2 figures will import, but their joint skinning (the process that determines how a particular joint affects the associated mesh) do not import properly, resulting in unrealistic deformations. Theses figures use a different system than Genesis 3 or 8 (this may be the Tri-Ax process that has been mentioned by DAZ in the past?), and I haven't properly handled it. Therefore, Genesis and Genesis 2 figures and associated assets are not currently supported.
There are also a number of other issues I need to work on, and polishing to be done, before I'd be willing to expose the plugin to the public.
Some technical notes:
The plugin is mix of Python and C++. I like pyhon for building user interfaces and file I/O, and prefer C++ for the nitty-gritty of translating DSON to useable Maya assets.
I believe the performance is quite good. The Genesis 8 Female character takes somewhere between 5 and 10 seconds to import on my (relatively powerful) computer. The vast majority of this time is spent finding and applying the JCM's. Pose and Material files are imported almost instantly.
To DAZ: I wanted to stress how fantastic the DSON format is for CG graphics exchange. Basing a format on JSON was an inspired choice because of its ubiquity. It would have been much harder to complete a plugin like this if .duf and .dsf files were not in such a widely supported format.
Thanks for taking the time to read all this. As I mentioned, I would love to hear what DAZ users think about the plugin. And I would also love to hear from the DAZ people themselves. Would Dex be a constructive addition to the DAZ marketplace?
In the meantime I'll continue working on the plugin
Michael
Post edited by dexplugin on